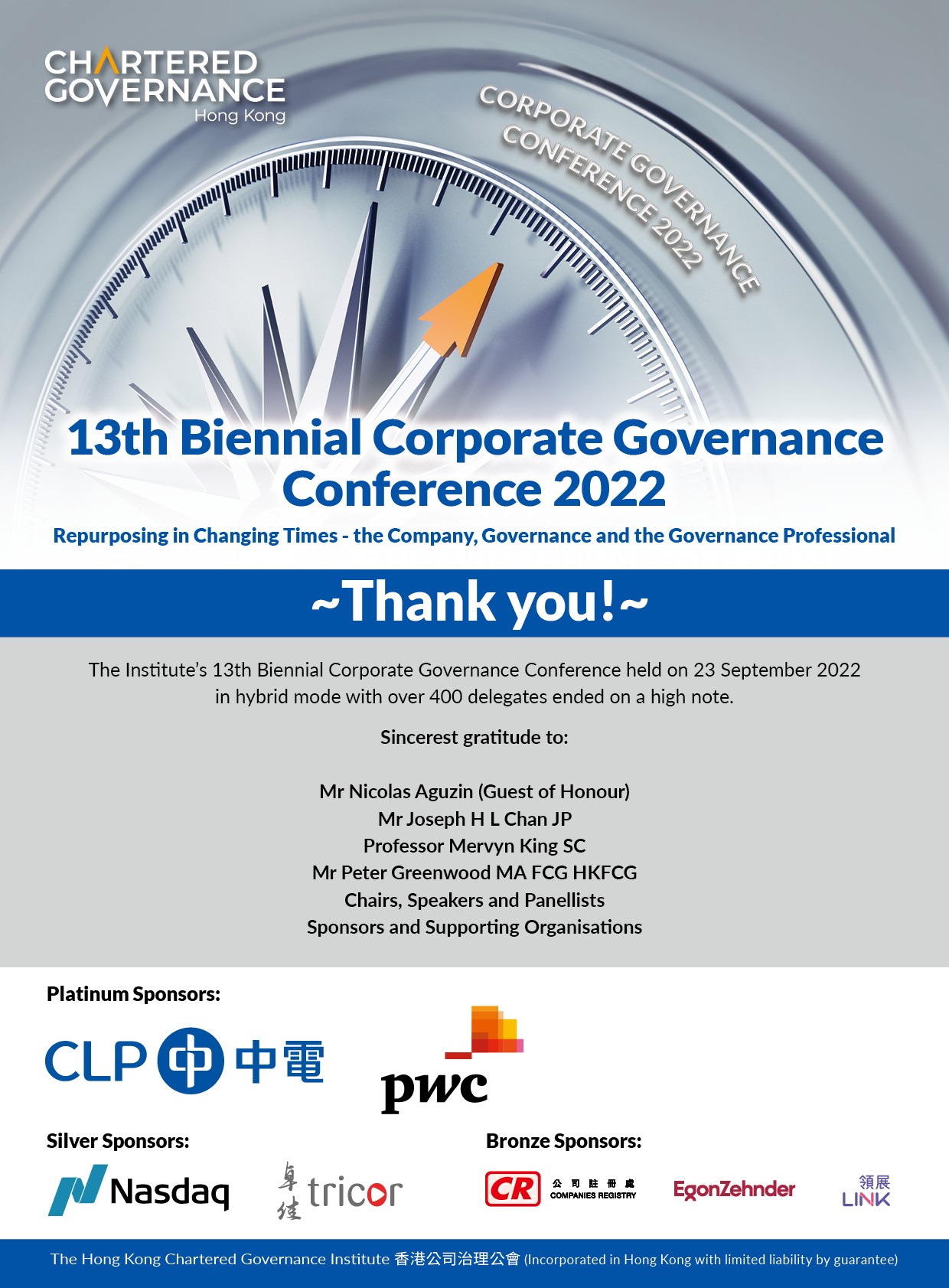 The Hong Kong Chartered Governance Institute
13th Biennial Corporate Governance Conference
Repurposing in Changing Times - the Company, Governance and the Governance Professional
Date: 23 September 2022 (Friday) (Hybrid Mode)
Venue: Ballroom, JW Marriott Hotel Hong Kong, Pacific Place, 88 Queensway, Hong Kong
Online Sessions - Registration Closes on 15 September 2022 (Thursday)
Physical Session – Full House
5
SESSIONS

6.5
ECPD POINTS
15+
SPEAKERS
300+
PARTICIPANTS
About CGC2022
Theme
The velocity of economic, social, environmental and technological change is accelerating. Mastering these changes and harnessing them for the good of society is one of the greatest challenges of our times. In this conference, we will examine how not just the functioning, but the purpose of the company, governance itself and of the governance professional should be redefined to meet the needs of the 21st Century.
Whilst there will be some focus on listed companies, we aim to discuss how other entities, be they statutory bodies, non-governmental organisations, social enterprises and private companies can adapt and evolve to find a new purpose in changing times. The conference is relevant to governance professionals, directors and other senior management, professionals and consultants dealing with governance related issues, and any persons generally interested in better governance for a better future.
Event Chair:
Mr Peter Greenwood MA FCG HKFCG
REGISTER for Online Sessions of this important conference on or before 15 September 2022 (Thursday)!

Aims
Relevant – dealing with issues and topics which relate to the work of our members and other CG professionals across the wide range of organisations they serve, whether listed companies, growing SMEs, NGOs, social enterprises or public sector entities and authorities.
Authoritative – providing expertise and insights from leading experts and practitioners.
Enabling – equipping attendees with extra skills and awareness to enable them to make an even more effective contribution to good governance.
Forward-looking – dealing not just with today's demands on corporate governance practitioners, but those they can expect to face in the coming years.
Practical – each session will include practical advice that corporate governance practitioners can deploy in their work.
HKCGI CGC 2022
Highlights and Interviews